Theatre Producer
As a producer, Christine always strives to deliver the highest quality work which is true to the concept and which has a broad appeal to the audience. Her work includes drama, contemporary music, comedy, and family entertainment.
Public Speaker
Christine is a sought after conference presenter and public speaker and has spoken at a number of industry forums. As Master of Ceremonies she was retained by the Australia Council for the Arts for their Marketing Summits in Sydney in 2010 and Brisbane in 2011
Recent engaements include:
* MC for Showcase Victoria 2018 & 2019
* An interview with Australian National Living Treasure Garry McDonald AO at the inaugural Gippsland Gatherings event in November 2016, which raised money for a local mental health facility.
* In conversation with Garry McDonald AO at the BERRY CONVERSATIONS event on 2 April 2017
* Showcase Victoria, Malthouse Theatre May 2017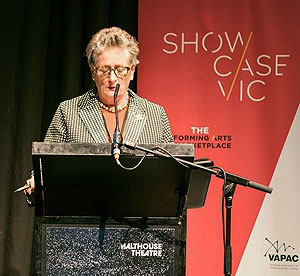 " Considerable effort was made to engage and brief an MC with performing arts touring industry experience. This resulted in a highly professional yet friendly and entertaining atmosphere throughout the event and also helped put program participants at ease prior to their stage time " Showcase Victoria 2017 Impact Report.
" I think it was put together really well,
and LOVED Christine Dunstan as an MC. "
" In my opinion, Christine Dunstan was the best MC
in the history of Showcase. Give her another gig! "
Theatre Design Consultant
Christine's practical theatre knowledge was utilised by then Nimrod Theatre Company in 1976 when the former tomato sauce factory was converted to what is now the Belvoir Street Theatre. She was the Design Project Manager for the construction of the Showroom at Jupiters Casino at Queensland's Gold Coast and for the ABC TV Australian Information Media Studios in Sydney.
Christine was engaged as Design Consultant by Sydney Theatre Company for the conversion of the Walsh Bay finger wharf to become the home of the Company.